Hits: 166
Among numerous indexes by international organisations and expert communities, three are the most interesting resembling places the Baltic States occupy in the world: Global Sustainable Competitiveness Index, GSCI (made on a yearly basis by a consulting company SolAbility); Global Prosperity Index, GPI (prepared by the British research center Legatum), and World Happiness Report, WHR-2020 prepared this year for the eighth time.  
As to sustainability, the Global Sustainable Competitiveness Index (GSCI) measures competitiveness' level of over a hundred countries calculated on 116 quantitative indicators provided by the World Bank, the IMF, and different UN agencies. These indicators are grouped into 5 sub-categories in sustainability: natural capital, resource efficiency and intensity, intellectual capital, governance efficiency, and social cohesion.
By the "natural capital" is meant the natural environment, including the availability of resources, and the level of the resources' depletion. In the "social capital" the index includes health, security, freedom, equality and life satisfaction. By the "resource management" is meant the efficiency of using all available national resources. The "intellectual capital" category includes a country's capacity to generate wealth and jobs through innovative processes and value-added growth sectors. Finally, by the "governance efficiency" is meant the activity of main state institutions in providing optimal development in such areas as infrastructure, market and employment structures, as well as measures for sustainable wealth's generation.
See the table below "Sustainability's indicators".
According to recent analysis, the first nine ranking-places are the following: Sweden, Finland, Iceland, Denmark, Switzerland, Norway, Estonia, Luxembourg and Latvia; Germany is on the 15th place, Poland on the 21st and Lithuania on the 28th. (Global Sustainable Competitiveness Index, GSCI, 2019).
Table: Sustainability's indicators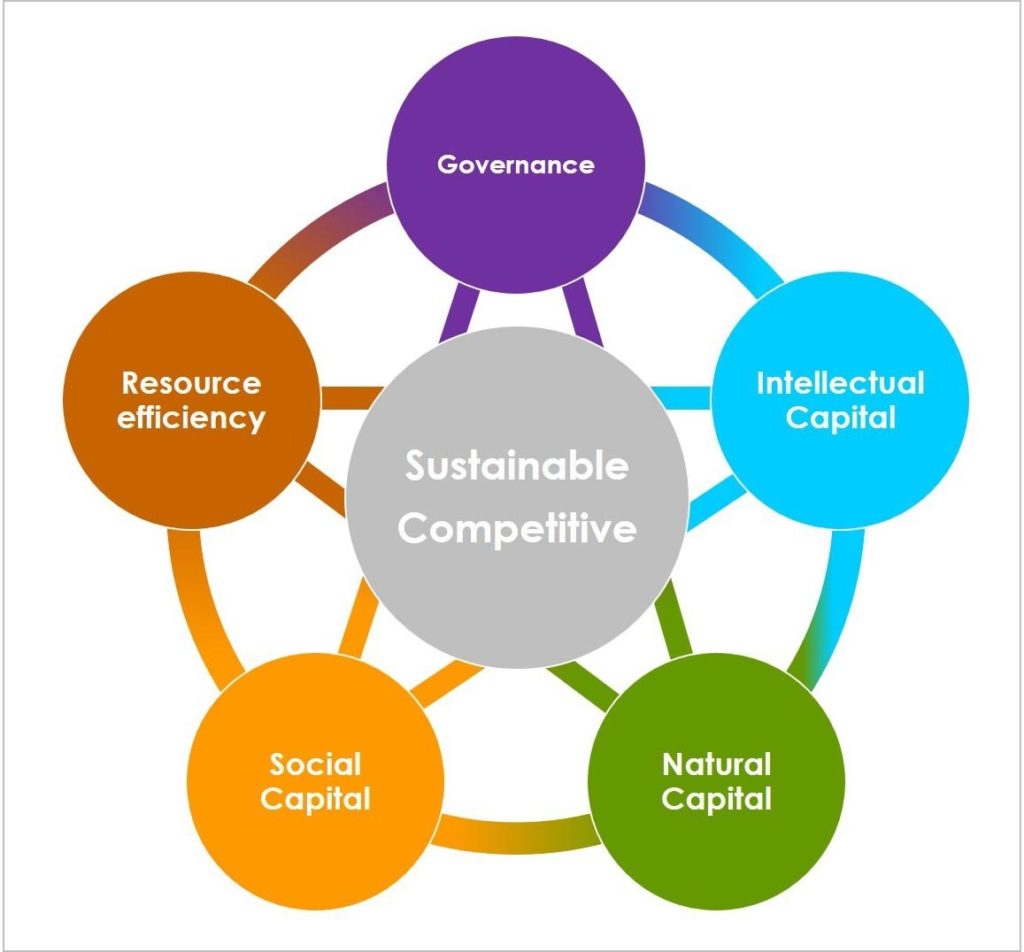 Interesting enough, among top twenty "sustainable nations" in the world almost all are the EU's member states; only two are "outsiders": New Zealand on 12th and Canada on the 19th place. Besides, among the "top 5" are, as usual, four Scandinavian countries with Sweden as a leading competitive sustainability state, followed by Switzerland. Among top 20 sustainable states there are two Baltic States while Lithuania occupies the 28th place.
Germany, the EU's "economic locomotive" ranks 15th while the world's largest economy, the US, is ranked 34th: the US ranks particularly low in resource efficiency and in social capital.
Among the largest emerging economies (united in the BRICs grouping), China is ranked 37, Brazil 49, Russia 51, and India 130.
Quite remarkable that the Asian countries: e.g. South Korea, Japan, Singapore, and China are leading in the "intellectual capital" ranking; whereas in the "social cohesion" ranking the heading positions are occupied by Nordic countries, which is an indication that social cohesion goes hand-in-hand with the sustainable economic growth.
References in: http://solability.com/the-global-sustainable-competitiveness-index/the-index
https://www.eco-business.com/research/the-global-sustainable-competitiveness-index-2019/
Some private expert organisations also provide reliable information on various sustainable issues featuring for example financial risks involved and increasing opportunities for business and governance. Thus, Blumberg analyses sustainability issues in complex combining environmental, social and decision-making aspects, in line with the UN-SDGs.
More in: https://www.bloomberg.com/impact/?/utm_medium=Adwords&utm_source=pdsrch&utm_content=IMPACT-REPORT-2019
Regarding prosperity, the global ratings assess prosperity more than just accumulation of material wealth; the concept also includes –both for individuals and countries – "the joy of everyday life and the prospect of an even better life in the future".
Prosperity requires that people have the opportunity to fulfill that potential and to help other people to realize theirs. Besides, prosperity requires that people have an opportunity to fulfill their potentials and assist others in this regard; hence, prosperity includes the peoples' perspectives and the ways they contribute to "a better future".
Recent prosperity index describes a combination of nine pillars that actually constitute prosperity: economic quality, business environment, governance, personal freedom, social capital, safety and security, education, as well as health and natural environment in 149 countries.
It is true, that prosperity is directly linked to peoples' wellbeing; the recent report underlines the rising citizens' prosperity over the last 10 years. Countries whose scores have fallen have seen a decline in their wellbeing. Thus, in 2019 the three Baltic States have had the following ranking: Estonia -21st, Lithuania -33rd and Latvia -35th.
Ten years ago, in 2009 the three Baltic States' ratings were slightly different: 22 place for Estonia, 38 for Latvia and 34 for Lithuania.
More in Global Prosperity Index: https://www.legatum.com/philanthropy/investing-in-policies-ideas/the-prosperity-index/; Rankings in prosperity: https://www.prosperity.com/rankings
The final "happiness" index
From a philosophical perspective, as some critics argue, measuring the happiness by a group of people or even states is misleading because happiness is an individual matter. For example, such thinkers as Dalai Lama, Gandhi, Tolstoy, etc. regarded happiness as an individual choice that is independent of the society, its structures and living conditions. They argued that individual happiness cannot be measured using variables that can and should capture a nation's well-being. This means therefore that one cannot really talk of a happy or unhappy nation, but of happy or unhappy individuals.
Source: https://en.wikipedia.org/wiki/World_Happiness_Report
However, the eighth World Happiness Report, WHR-2020 has made an assessment of "happy states", meaning that it inherently includes "happy people" too. According to the 2019 Happiness Report, Finland is the happiest country in the world, with Denmark, Norway, Iceland, and The Netherlands holding the next top positions.
Source: https://worldhappiness.report/ed/2020/#read
The WHR-2020 also reveals inherent links in over a hundred countries world over between the UN Sustainable Development Goals (SDGs to be reached by 2030); as is known, the 17 SDGs measure different aspects of economic, social and environmental development.
The report also underlines that there may be "inherent tensions" that require more complex policy efforts in order to chart a course towards environmentally sustainable and socially equitable growth without reducing human well-being.
A conceptual "cooperative model" between sustainable development and well-being finds that the SDGs are strongly related to the "determinants of well-being" in such aspects as income, social support, generosity, freedom, trust in government, and health.
For example, the Gallup World Poll measures 14 "cooperative areas": (1) business & economic, (2) citizen engagement, (3) communications & technology, (4) diversity (social issues), (5) education & families, (6) emotions (well-being), (7) environment & energy, (8) food & shelter, (9) government and politics, (10) law & order (safety), (11) health, (12) religion & ethics, (13) transportation, and (14) work.
Reference" https://en.wikipedia.org/wiki/World_Happiness_Report
In the WHR-2020, the Nordic countries are again in the first ranks, both in sustainability issues and peoples' happiness: the so-called "correlation chapter" (written by De Neve and Sachs) has noticed some closer links between the two. The authors argue, actually, that a proper approach would include some other features, such as data from the Human Development Index (HDI), Index of Economic Freedom, Global Peace Index (GPI), Global Competitiveness Index (GCI), Environmental Protection Index (EPI), and GDP per capita.
Quite interesting, those according to authors, such goals as SDG-14 (life below water), SDG-15 (life on land) and SDG-17 (partnerships) are generally insignificant for a "correlative" analysis. Strikingly enough, SDG-12 (responsible consumption and production) and SDG-13 (climate action) are "significantly negatively correlated" with human well-being.
Some SDGs are more strongly correlated than others with well-being, e.g. noteworthy results for the regions in the world: e.g. 1. important role of SDG-8 (decent work and economic growth) for countries in the former Soviet Union; 2. relative importance of SDG-9 (industry, innovation and infrastructure) for nations the European region; and 3. SDG-10 (reducing inequality) appears to be significant only for the well-off European countries.
Since the first World Happiness Report in 2012, four countries have held top positions: Denmark in 2012, 2013 and 2016; Switzerland in 2015, Norway in 2017, and Finland in 2018, 2019 and 2020. With its continuing upward trend, Finland has consolidated its hold on the first place and is significantly ahead of Denmark in second place. The remaining countries in the top ten are Switzerland, Iceland, Norway, the Netherlands, Sweden, New Zealand, and Austria, followed by a newcomer Luxembourg.
Interesting novice in the WHR-2020 is cities as an economic "powerhouse": more than 80 per cent of worldwide GDP is generated within their cities' boundaries. The cities allow for an efficient division of labour, bringing with them growing agglomerations and productivity benefits, new ideas and innovations, and hence higher incomes and living standards.
Cities often outperform the countries in general in terms of economic growth; city dwellers are often younger, more educated, more liberal more "progressive" than their rural counterparts; for example, they are more likely to be in professional and service jobs, and less likely to have kids.
With urbanization set to increase, by 2050, seven in ten people worldwide will be city dwellers. The importance of cities for global development has been recognized in the EU agenda-2030, e.g. SDG-11, Sustainable Cities and Communities, includes targets with clear relevance for citizens' life satisfaction, such as strengthening public transport systems to reduce congestion and commuting times, reducing air pollution and improving access to green and public open spaces for all.
Among the top ten in the world in this regard are clearly the cities in Scandinavian countries: Helsinki (Finland) and Aarhus (Denmark) are ranked first and second, Copenhagen (Denmark), Bergen (Norway), and Oslo (Norway) fifth, sixth, and seventh; Stockholm in Sweden comes out ninth.
Thus, according to how positively inhabitants presently evaluate their lives, more than half of the top ten cities worldwide are located in Scandinavia.
Source: https://worldhappiness.report/ed/2020/cities-and-happiness-a-global-ranking-and-analysis/
Additional reading:
– Global Sustainable Competitiveness Index, GSCI (2019);
– Helliwell, J., Layard, R., and Sachs, J. (2019): World Happiness Report 2019, New York: Sustainable Development Solutions Network.
– International Council for Science (ICSU) (2017). A Guide to SDG's Interactions: From Science to Implementation. – Paris, France: International Council for Science (ICSU).– Special report The World in 2050 (published in 2013) in: https://espas.secure.europarl.europa.eu/orbis/sites/default/files/generated/document/en/World%20in%202050.pdf